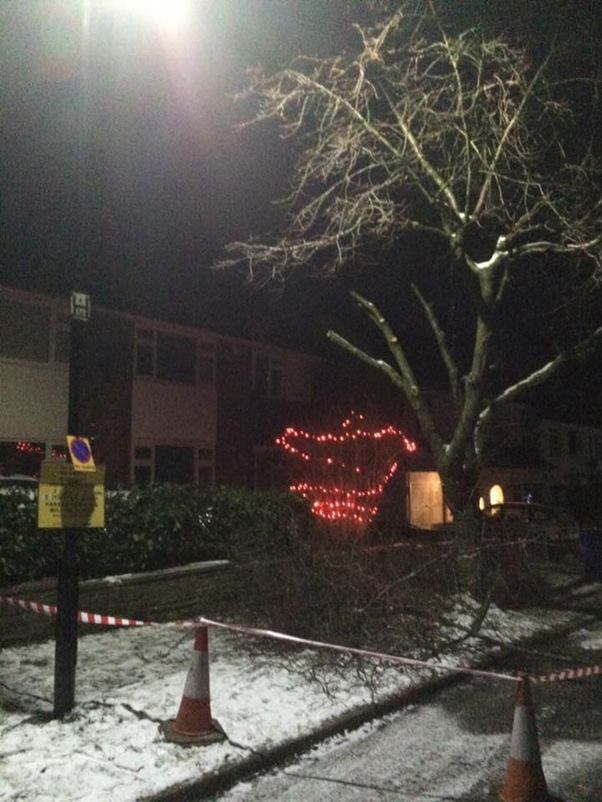 At 4.15 on the morning of December 12, a group of people, some of them masked, arrived on Abbeydale Park Rise. The street was brilliantly illuminated for Christmas, as has become an annual tradition. The healthy cherry trees were originally purchased by residents over 40 years ago, and now every year they are decorated, with people coming from around the city to see them. This year the decorations are raising money for the St Luke's Hospice. But these people were not there to admire the beautiful view. They were there to destroy it. They pulled out handsaws and hacked off branches, they cut through lights. The destruction continued until residents rose from their beds to tell them to leave. On their way out one of them swore at a woman who had come out.
What sort of people would target the holiday display, benefiting a hospice, less than two weeks before Christmas? Who were these law-breaking hooligans? Local youth? Gangs?
They were arborists, employed by Acorn as contractors for Amey, and they were carrying out the Sheffield Council's wishes. Why? Because Amey and the Council have decided to fell these healthy trees for damage to pavements and kerbs. We never do receive full information on why these decisions are made, because the council has signed a 25-year secret contract with Amey. What we do know is that Abbeydale Park Rise residents overwhelmingly support retaining the trees, and that there are engineering solutions to save trees— available and already paid for— and that these have never been used. Instead, they would rather make a pre-dawn raid on a beloved local Christmas attraction that is raising money to help the terminally ill.
And this is only the latest escalation. Amey and Acorn are already in the equivalent of special measures for their healthy and safety violations. The council has brought in a private army of security forces who are using force on peaceful tree protectors. They attempted to imprison an opposition councillor on trumped-up charges. This is not even their first early morning raid— over a year ago they dragged residents from their beds in order to fell trees on Rustlings Road, and arrested two pensioners in their nightclothes. All this is the service of destroying the trees. And now, destroying Christmas.