Whether you want a pocket-size battery or a big power bank to recharge your laptop, portable chargers are seriously useful additions to your device kit. New additions to our best portable charger list in 2018 include the latest Mophie that uses a lightning connection for your iPhone XS and XS Max, iPhone X and iPhone 8 smartphones.
All of the power banks below have one thing in common: they're always ready when your smartphone battery dies at the end of the day. It's a lifesaver for your 21st-century routine.
The big issue with portable chargers now? There are a lot to choose from. Some are simply better than others, and many of our recommendations balance battery capacity, safety and a svelte size with ample power reserves.
We've got a list of the top portable chargers that include compact, high-capacity, and even laptop-compatible portable chargers. Never fall to 0% battery life again
Best power banks for capacity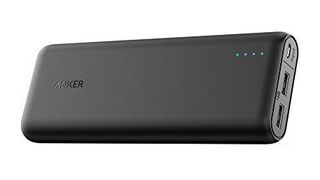 A whole 20,100mAh to play with
HUGE battery size
High speed charging
Heavy
Doesn't support Qualcomm Quick Charge
You've likely heard of Anker, and this is one of the company's best portable chargers. It comes with a huge 20,100mAh battery inside, meaning this will be able to charge up your phone or tablet multiple times before it needs a recharge.
It also comes with high-speed charging for your devices if they use PowerIQ or voltage boost. It won't be able to use Qualcomm's QuickCharge technology, but it'll still boost your device when you're on the go.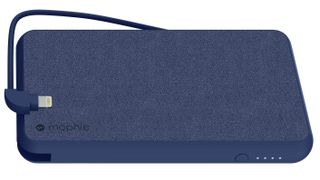 Mophie powerstation plus XL £87.39
The best portable charger designed for iPhones
Integrated Lightning cable
Great fabric design
Ideal mostly for the iPhone and iPad
The Mophie Powerstation XL is the best power bank designed for the iPhone and iPad (aside from the new iPad Pro 2018 with its USB-C port), and we say that for several reasons: it contains an embedded Lightning cable you can't lose, it charges via a Lightning cable and you can charge it wirelessly with any Qi charger, so you may already have everything you need.
This 10,000mAh power bank has a soft fabric finish and can charge two devices at once, one via the 10W USB-A port and another via the integrated Lightning charger. You won't find as much use from this portable charger if you're on Android, though it's still possible to use that USB-A port to top off a friend.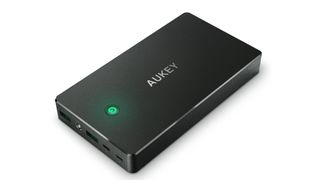 If the Anker isn't right for you, our next choice is the Aukey 20,000mAh battery pack. It features two ports so you can charge both your phone and your tablet at the same time and also has a light to show you how much battery charge is leftover.
The blocky design may not be for everyone, but this portable charger should be able to charge your phone and other gadgets a few times over with such a high capacity cell inside.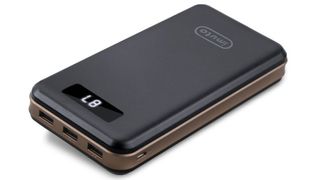 Three ports and 30,000mAh
Large capacity
Three USB ports
Chunky design
Very heavy
If you're looking for an even larger capacity charger than the option above you may want to go for the iMuto Ultra High Capacity portable charger. It offers a 30,000mAh capacity that will be able to charge your average smartphone over six times and still have some charger left.
It can also charge some MacBooks and laptops too, but you may want to make sure it will be compatible with your computing option before you buy it. Considering the price though, you'll struggle to find a 30,000mAh charger for this little.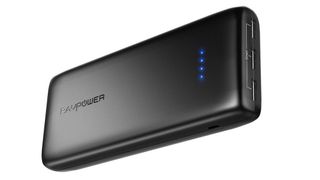 Three ports, but slimmer than the iMuto
Three ports
Surprisingly portable
Weighty
Another high capacity portable charger here for you and this time it's from RAVPower with a 22,000mAh option. The design is similar to the Anker and Aukey made options above, and while it doesn't include as much capacity as the iMuto one it does have a much slimmer design.
You have three ports here so you can charge multiple gadgets at the same time and it'll have enough capacity to be able to charge both a mobile and an iPad or tablet from 0% too.

Best power banks for both laptops and phones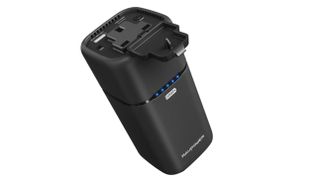 AC output
20,100mAh capacity
Big design
RAVPower's portable charger is a great choice if you need a device that can charge both your laptop and your phone. It features USB-C and normal USB outputs as well as an AC output, so you can plug your laptop charger directly in.
There's also a 20,100mAh capacity battery inside, so this will be able to juice up your phone or tablet multiple times before you need to put it back on charge.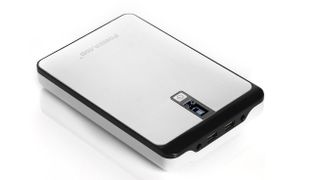 23,000mAh capacity
Easy to see display
Not particularly portable
The picture above may be deceptive, as this isn't a small charger and is capable of charging up your laptop or tablet as well as your phone simultaneously.
You can charge up to three devices at the same time and it comes with a 23,000mAh capacity, so it should last long enough between recharges.